Overview
Formed in December 1850, there is more to Calhoun County than meets the eye. This rural south Arkansas county was home to only 5,368 people as of the 2010 census, but packed within its borders are some of the region's top employers.
Industry
Calhoun County is home to the Highland Industrial Park – the largest industrial park in a five state area. With over 5 million square feet of space on more than 15,000 acres, this industrial park is home to several major U.S. defense contractors. The Highland Industrial complex has over 1,000 buildings, containing over 5,500,000 square feet of space for manufacturing and warehousing. The park is part of the former Shumaker Naval Ammunition Depot which was operated by the U.S. Navy from 1944 until 1957.
Cities
Calhoun County is home to the following cities and towns (population):
Hampton (1,324)
Thornton (407)
Harrell (254)
Moro (241)
Tinsman (54)
Transportation
Calhoun County is serviced by three U.S. highways. U.S. 167 is a major artery for traffic flowing from the Golden Triangle region to Little Rock and runs directly through the center of Calhoun County. The Arkansas Highway and Transportation Department is currently working to four-lane the highway from the Louisiana state line to Little Rock. Once completed, this will greatly improve transportation in Calhoun County.
Education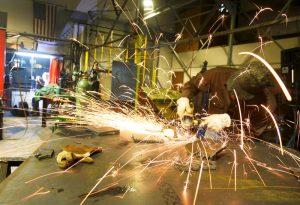 The Hampton School District serves Calhoun County students in grades kindergarten through 12. Home of the Bulldogs, the district has constructed a new high school within the last five years.
The county is also home to Southern Arkansas University Tech, located in the Highland Industrial Park. The two-year college specializes in technical training and offers the first two years of a university transfer program in several areas of study. SAU Tech is home to the Arkansas Fire Training Academy and the Arkansas Environmental Training Academy.
For more information, visit the Calhoun County website.